Blood Draws
Blood draws are common procedures (also related to venipuncture or phlebotomy) in which needles are used to withdraw blood from a vein.
This may be done for laboratory testing, blood donations, or to treat blood disorders. Even patients who grow accustomed to shots can find going to the lab for blood draws and IV access difficult.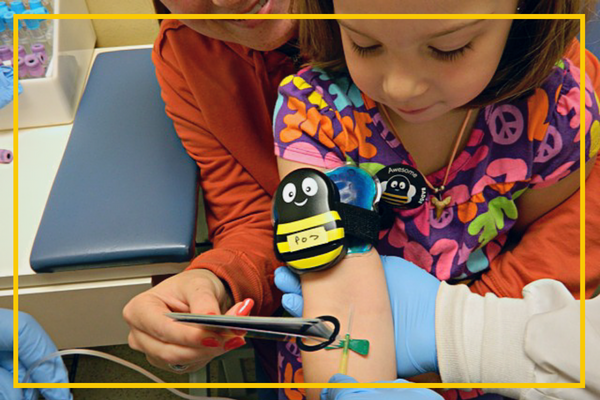 Treating needle pain from blood draws
Switch on to activate Buzzy®'s vibration, then place Buzzy® and ice wings proximal to the lab draw or IV area. Do not place it directly on the access site. The rounded bottom end of Buzzy® should be 3-5cm proximal to the site. Turn Buzzy® on and leave it in place and vibrating throughout the access. Immediately prep the area and cannulate as usual.
In over 40 venipuncture studies, Buzzy made collecting blood easier or was the same as other interventions; vibration vasodilates making the vein bigger and easier to find.
Treating other needle stressors.